OnePlus 6: Low-Cost Flagship with Trade-Offs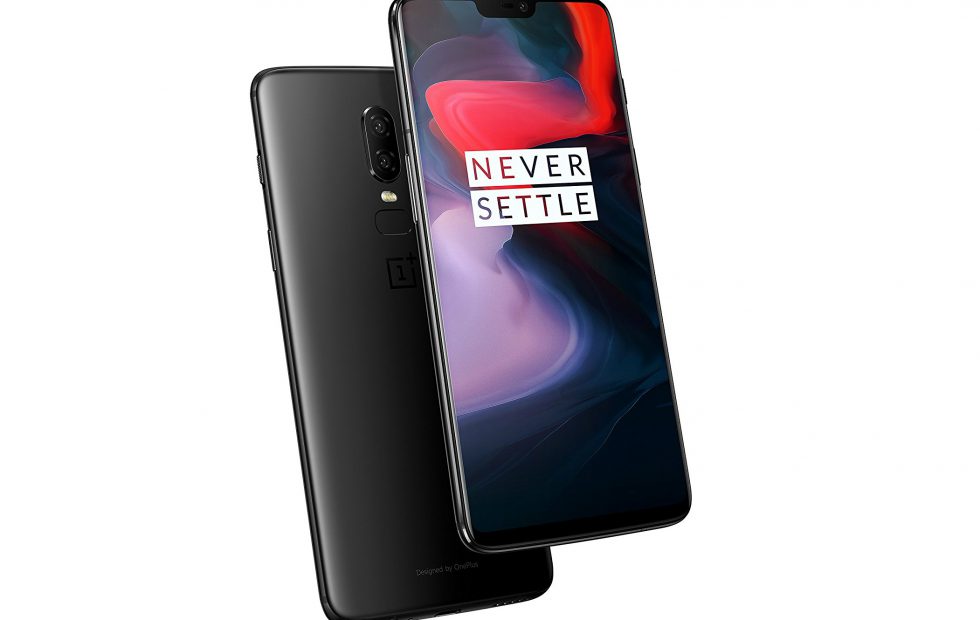 Chinese Manufacturer OnePlus has recently unveiled the OnePlus 6, with its cheesy slogan, "the speed you need", an obvious one to have for a pocket computer. The OnePlus 6 packs new, contemporary hardware into a consumer-friendly handset that delivers specs we'd expect to see of today's flagships at a low price. OnePlus has been known for their relatively low-cost flagships for years, and there's no point in trying to deny the brilliant value you get from an Android phone.
There are plenty of new features offered, but there are also things missing that today's end-users might want or even expect from a flagship device.
Design
The device is available in 3 new colours: "Midnight Black" and "Mirror Black", which have matte and glossy black finishes, respectively, as well as "Silk White". The Midnight Black version has a matte back, whilst the Mirror Black and Silk White variants sport a new glass back, replacing the aluminium unibody that all other OnePlus devices have had in the past. The glass back raises some concerns for long-term OnePlus users, who have always had and likely expect an aluminium casing, since the new design makes the entire phone more fragile.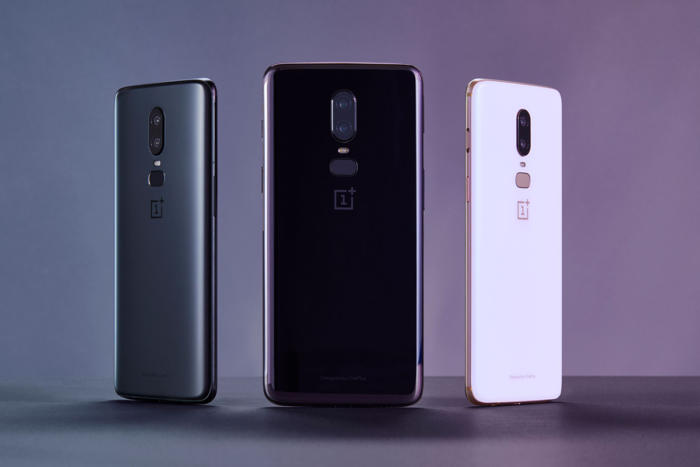 OnePlus hasn't stated the strength of the glass, with many simply feeling that it's an unnecessary feature, even more so considering that OnePlus has not included wireless charging technology, which necessitates a glass with current technology, causing us to see most big manufacturers now include glass backs due to wanting to provide this feature, such as Apple's iPhone 8 and iPhone X. OnePlus has stated that they felt wireless charging is an unnecessary feature in the face of their Dash Charge technology, which provides super-fast charging reliably over a traditional wire. Here's to hoping we'll see a hybrid of Dash Charge and wireless charging in the future, which would also give a true purpose to that glass back.
Speaking of glass, the front display features Corning Gorilla Glass 5 to cover a 6.3-inch AMOLED display with a resolution of 2280×1080. You'll notice that this a 19:9 aspect ratio, present because the display is almost edge-to-edge, with a notch present for the front camera and proximity sensor, much like the iPhone X famously has. However, this presents two issues:
The notch continues to become ever more present in the Android market, which many are not a fan of. OnePlus mentions that they have gone with the notch because it's worth the trade-off to have so much more screen real-estate.
The device still only packs the same 3,300 mAh battery as the OnePlus 5 and 5T, which, coupled with the significantly larger screen, suggests shorter battery life (specifically, less screen-on time).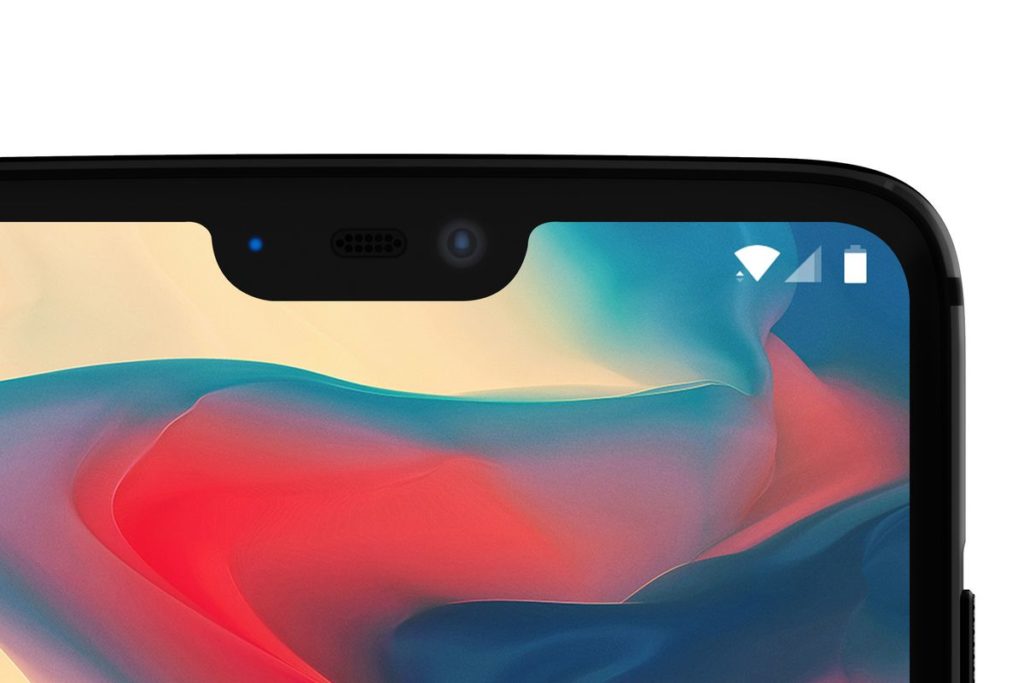 However, these issues look to be solved, or at least mitigated, in the wake of Android P. The OS will offer users of phones with a notch the ability to render the notification bar in the same colour as the notch in an attempt to make the notch seem invisible. Moreover, Android P aims to use adaptive AI to save battery, preventing power-hungry apps from sucking up all your charge.
As always, OnePlus says that they are committed to heeding and responding to its fans' wishes, so expect regular software updates during the device's lifetime.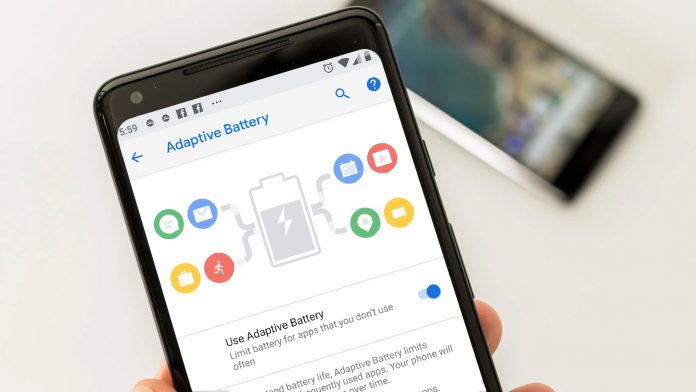 Specs, Pricing, and Availability
The OnePlus 6 ships with OxygenOS 5.1.0, which is OnePlus's custom version of Android 8.1 "Oreo". The phone starts at £469.00, with that model having 6GB of RAM and 64GB of storage; a little more expensive than its predecessor, but far cheaper than most other flagships.
OIS (Optical Image Stabilisation) has been added to both the front-facing and rear-facing cameras. The rear has a dual-camera again, this time aligned vertically with the phone standing upright, at resolutions of 16MP and 20MP. The fingerprint sensor has been moved to be below the rear cameras. The phone includes water resistance, though the company has not said what IP rating the phone stands at, and how exactly what amount of water pressure it can withstand. Most other features are predictable, with a dual nano-SIM card tray, a Qualcomm Snapdragon 845 processor, and an Adreno 630 GPU. See the images below for full specs and additional pricing.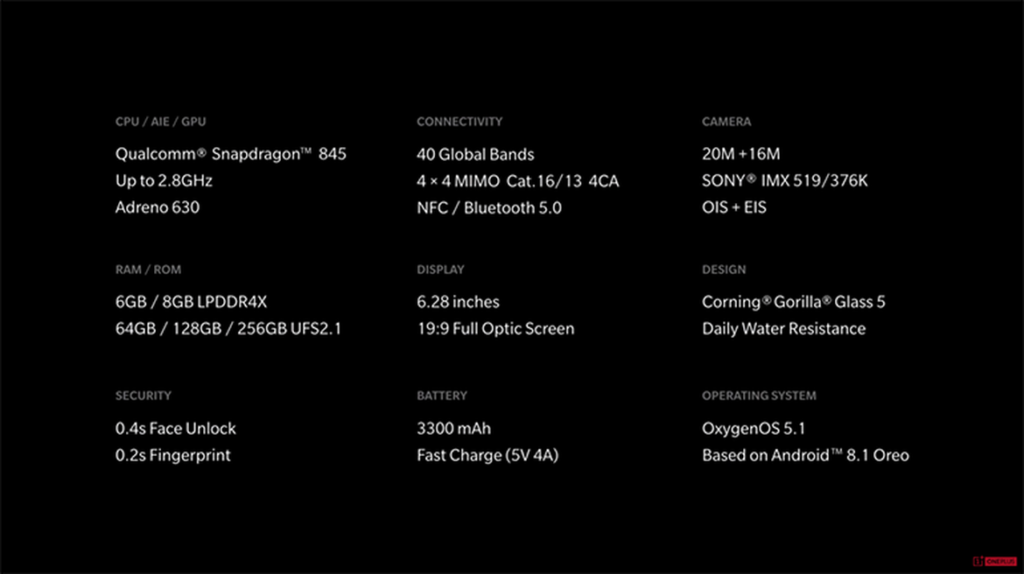 Camera
Both the rear- and front-facing cameras can shoot in portrait mode as well, just like the iPhone X. Is this on par with the Google Pixel 2 or even the iPhone X? We'll have to wait for some real-life shots and see. The OnePlus 6 also supports shooting in 4K at 60fps (frames per second), including slow-mo in 1080p at 240fps, and in 720p at 480fps.
Conclusion
The OnePlus 6 is most arguably the fastest Android flagship out there right now. Its pricing has risen, though it still continues to be amazing value for what it is, with hardware and specs that are on par with this year's array of flagship devices. However, the device has its trade-offs, which may put off some users, though Android P looks to address some of these in the near future.