Samsung Unpacked August 2018: Everything You Need to Know
Today's Samsung Unpacked event, the second one this year (check out our article about the previous one in February where the Galaxy S9 was unveiled), showed off an array of new and improved devices and services at the Barclays Center in Brooklyn, NYC, including the long-awaited Note 9. In typical fashion, DJ Koh, Samsung Electronics' President and CEO, commenced the event with inspirational talk of it being "time for a new generation of experiences that are intelligent enough to anticipate your needs; open enough to give you full control over the choices you have and the decisions you make, private enough to respect and protect your confidential information, and seamless enough to flow with you without interruption as you move through your day.
"This is a vision only Samsung can deliver."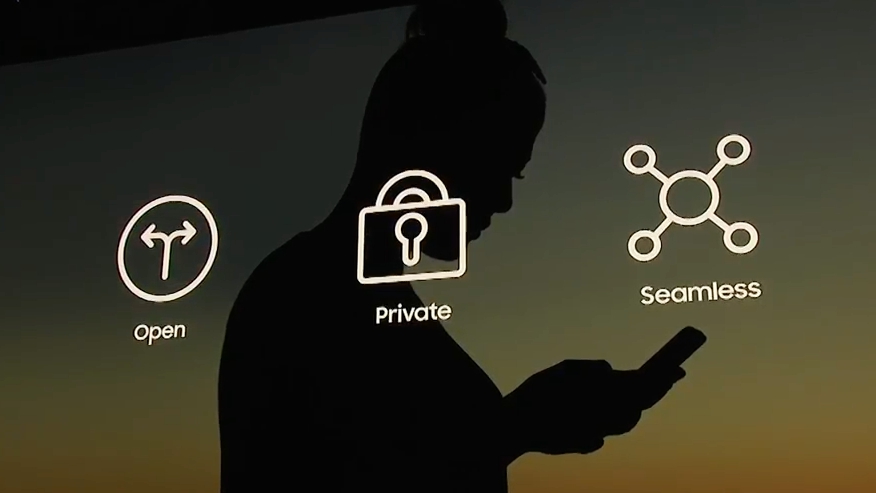 Koh continued, "too many companies create experiences that are designed more to reinforce their business models than enhance your lives. At Samsung, we are committed to meaningful innovation that puts you first. Guided by our belief in the potential of technology to amplify our creativity, we are creating a galaxy of experiences that span not just devices and locations, but platforms and brands—experiences built on a foundation of intelligence that learns, adapts, and anticipates, not to control your choices, but to enhance human capabilities and expand human possibilities."
Bold words from Koh, who recognises that it's an "ambitious vision", but also believes that Samsung has "made significant progress over the past two years" in this endeavour.
So what do they have to prove this claim?
Galaxy Note 9
The Samsung Galaxy Note 9 is the latest instalment in the flagship "phablet" series, though as rightfully pointed out by Drew Blackard, Senior Director of Product Marketing, the original Note's 5.3-inch display, which was deemed obscenely huge by many upon its release back in 2011, is now perhaps considered too small in the eyes of many of today's smartphone users. Even the Note 2's 5.5-inch display was called a "behemoth" by well-known tech personality Marques Brownlee (better known as "MKBHD") back in 2012.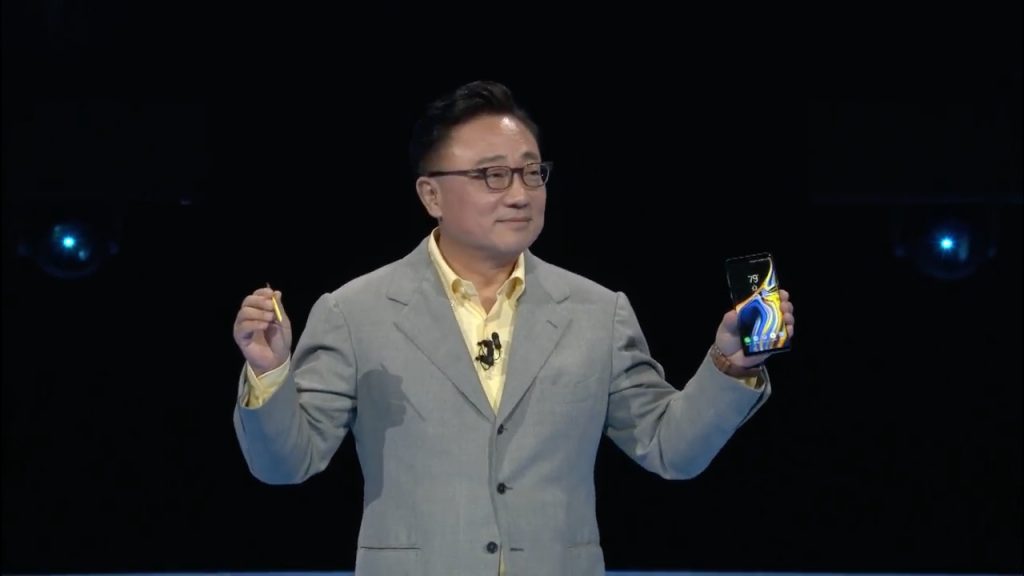 Display and sound
To make up for the change in user expectation over the years, the Note 9 sports a grandiose 6.4-inch, end-to-end display at a resolution of 2960 × 1440. That's a display resolution about 16% wider than widescreen 1440p "QHD / Quad HD" (precise aspect ratio 18.5:9 or 37:18, for those interested), at a pixel density of 516ppi. Compared to the iPhone X's 458ppi display, that's 13% more clarity on the Note 9, for crisp viewing of text, pictures, and QHD video. Blackard noted that the device has been recognised by YouTube as a "Signature Device", offering a best-in-class viewing experience.
AKG speakers also offer higher quality sound than any of the Note 9's predecessors.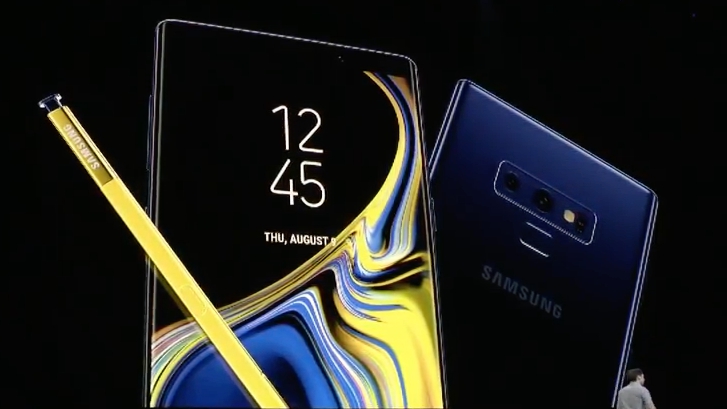 Colours
The device comes in four colours: Ocean Blue, Lavender Purple, Metallic Copper, and Midnight Black. Each comes with an S Pen of matching colour, except for Ocean Blue, with its S Pen having a vibrant, fluorescent yellow hue.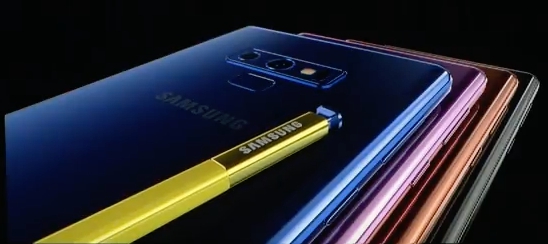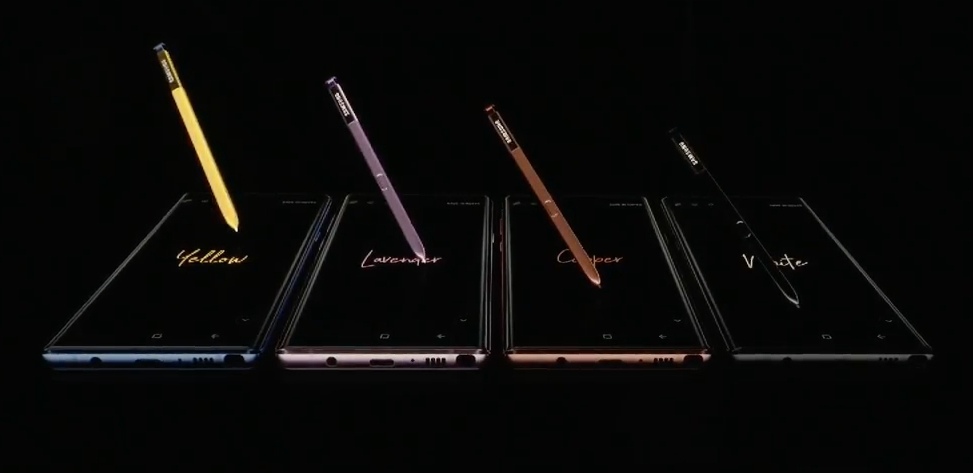 Battery
The Note 9 boasts a 4000mAh battery, which Samsung claims will last you an entire day, no exceptions.
Storage and memory
Starting at 128GB of internal storage, with a 512GB option available, the Note 9 also has a microSD card slot capable of supporting 512GB memory cards. Combined, that means up to a whole terabyte of storage can be made accessible to the device, though, of course, the extent to which 1TB of disk space split evenly across internal and external storage can be fully utilised might be questionable, with Android preferring to store whatever it can on internal storage, wherever possible, including media—though I must disclaim that this is just the experience of myself and my friends with plug-and-play external storage; with a bit of tinkering, such potential issues may be easily overcome.
The 128GB model has 6GB of RAM, and the 512GB model has 8GB of RAM. As such, both promise fluid performance, multitasking, and gaming from modern apps.
Processor, performance, and gaming
In addition to at least 6GB of RAM for smooth operation, the Note 9 has eight cores of processing power split across two CPUs, clocking in at a maximum of 2.8GHz, and an Adreno/Mali GPU, depending on the region of purchase. For the specifics of these specs for each release region, see the spec sheet on GSM Arena.
To ensure peak performance at all times, especially when under high load during intense moments of gameplay, the phone houses Samsung's "advanced water carbon cooling" system. This feature should also guarantee peak performance when taking advantage of DeX, Samsung's proprietary tech that allows your phone to serve as a desktop computer, which we'll discuss in more detail further below.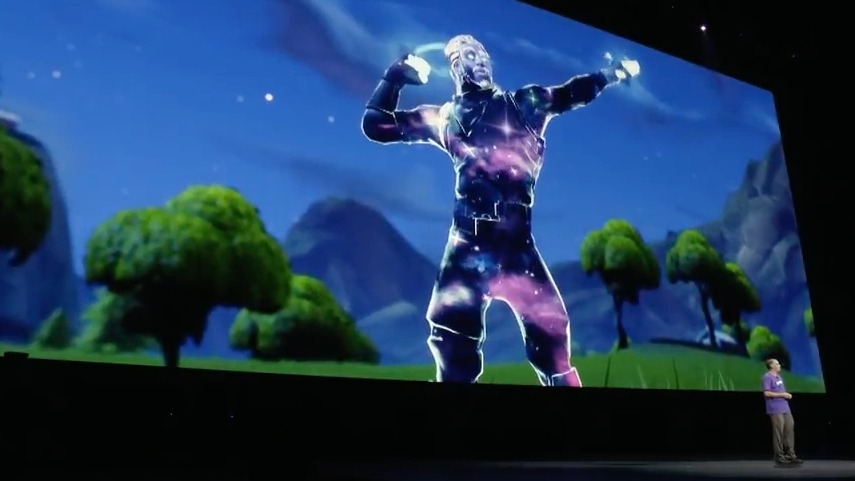 Tim Sweeney of Epic Games, the creators of Fortnite, also appeared on stage momentarily to announce that Fortnite for Android will be releasing this week, with Samsung Galaxy devices being the first to be invited starting now! Players using the Note 9 or Tab S4 will also have access to an exclusive "Galaxy" skin in-game.
Camera
Just like the Galaxy S9, which we saw hit the shelves 6 months ago, the Note 9 has the same dual aperture technology, allowing low-lit and well-lit scenes to be captured as they were meant to be. A new set of intelligent features allow the Note to also detect what the subject of a photo is, adjusting colour grading and filtering settings correspondingly for optimum results, and also letting you know if potential flaws are present in the photo you've just taken, such as someone blinking or a blurred image due to motion, being out of focus, or similar, then notifying you to take another photo before the opportunity is gone.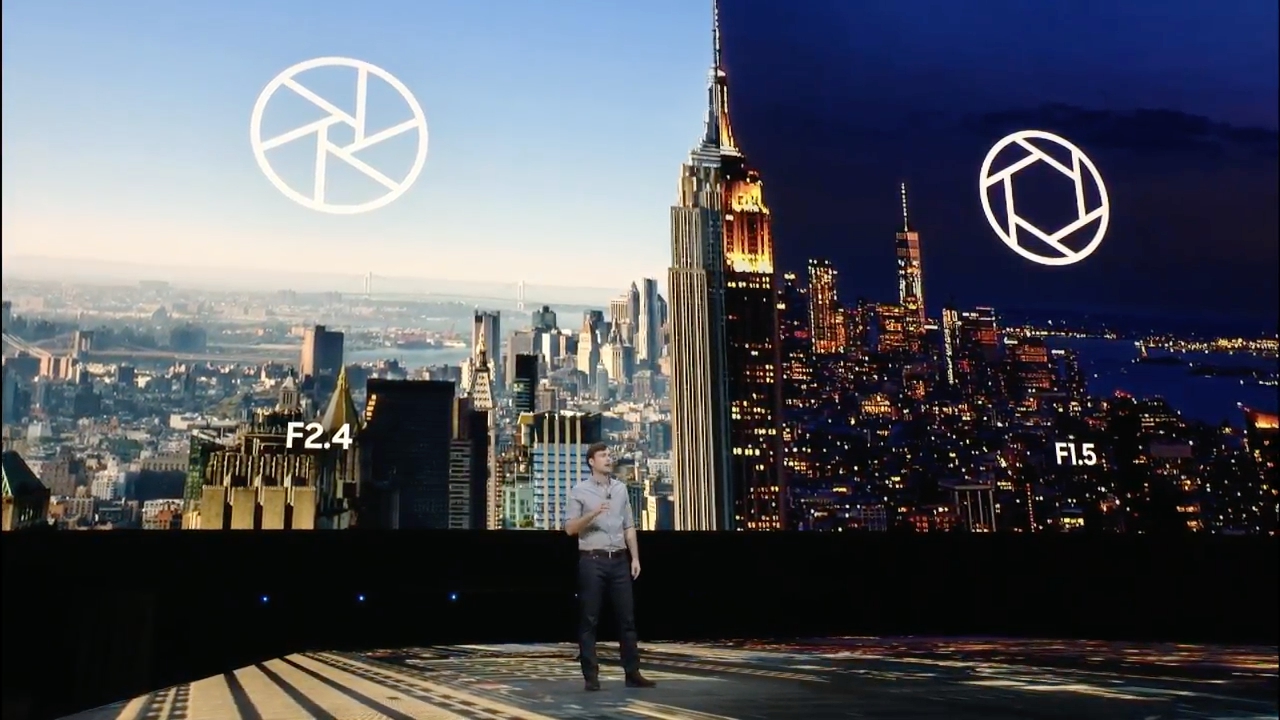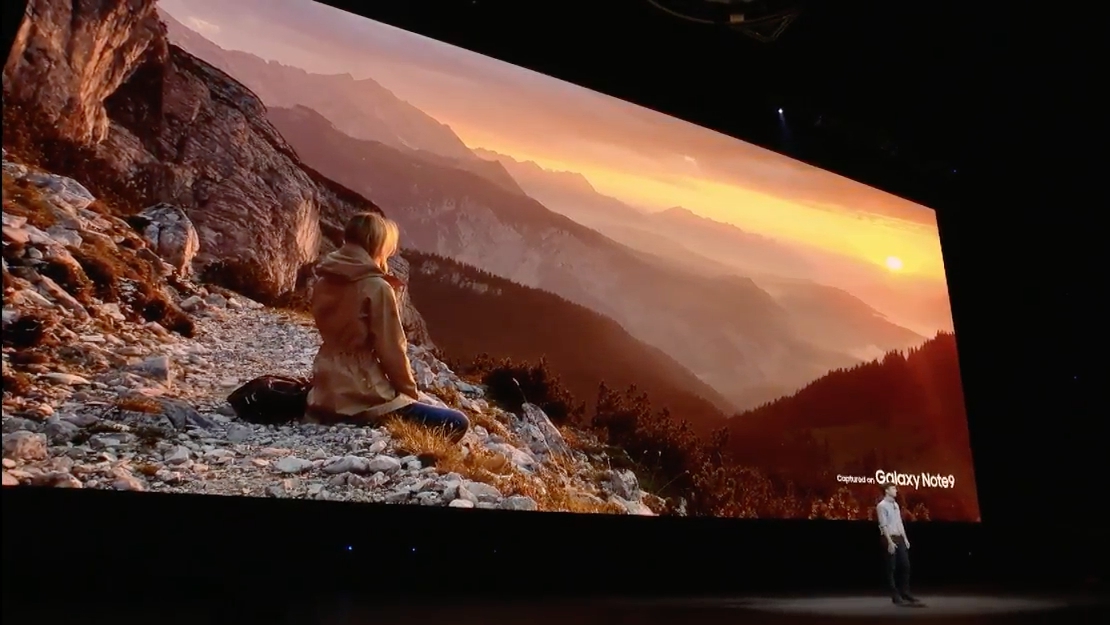 S Pen
The phone's stylus, branded as the S Pen alongside its predecessors, now packs an impressive amount of tech itself, with a 30 minute battery that takes a mere 40 seconds to fully charge when housed inside the phone, and a multi-featured button on its side offering remote control features like the ability to act as a shutter for the native camera and Snapchat, facilitating that all-important selfie game, playing and pausing video, and as a clicker for slideshow presentations. In fact, Jon Wong, Director of Product Marketing, took to centre-stage to show off the S Pen's new key features, using it himself during the presentation to flick back and forth through the slides being displayed to the audience at the Barclays Center.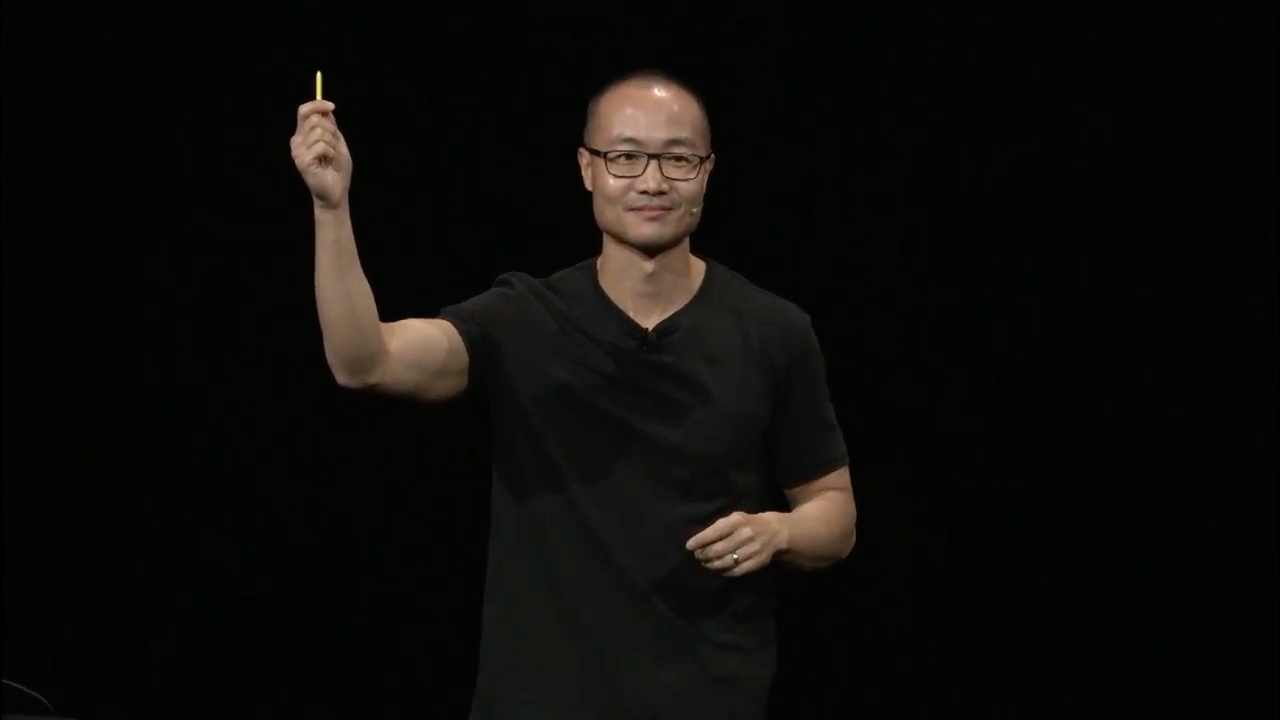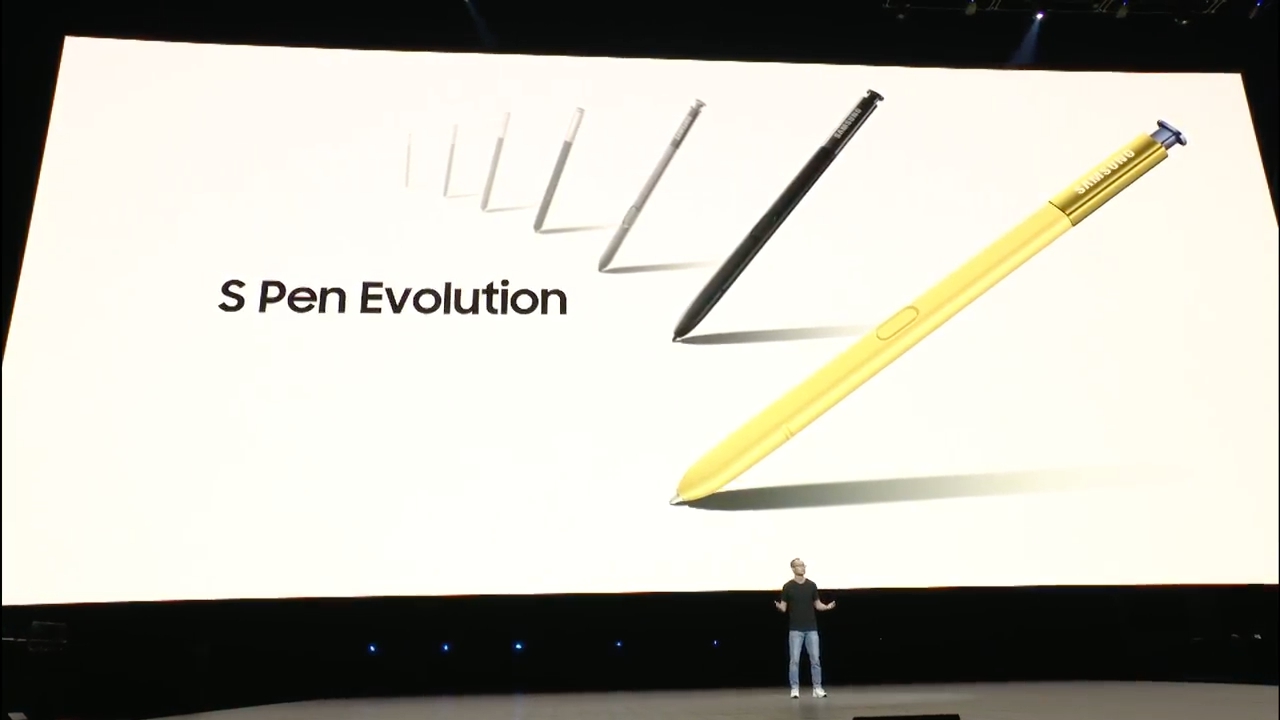 As well as the S Pen's SDK being made publicly available soon for developers to take full advantage of its features, Samsung has created an art portal called PenUp, currently in beta, that allows artists of all skill levels to showcase their digital creations online.
Price and availability
The Samsung Galaxy Note 9 is available for pre-order now, starting at £899 in the UK, costing £200 extra for the 512GB model, though a discount of up to £400 is available (yes, £400 at the time of writing, despite that webpage currently saying £300!) if you upgrade to the Note 9 from an eligible handset, with the discount amount varying depending on the specific handset you trade in.
Trading in a Galaxy S8 or S8+, Galaxy Note 8, or an iPhone 7 or later will afford you a discount of at least £300 at the time of writing.
The Samsung Galaxy Note 9 will be available from 24 August 2018.
Samsung DeX for the Note 9 and Tab S4
Many companies have attempted to take advantage of the computing power that modern smartphones offer in an effort to have smartphones—or, indeed, superphones!—replace the traditional desktop or laptop computer as a whole. Canonical, the UK company behind Ubuntu, one of the world's most popular Linux distributions, is perhaps the most well-known past contender, with their Ubuntu Edge proof-of-concept device amassing over 12.8 million of its 32 million US dollar funding goal on IndieGoGo back in 2014. Despite not reaching this goal, Canonical, being the large company that it is, continued with the project as Ubuntu Touch, attempting to offer convergence between the different form factors of device we use today, from our phones all the way up to our home and office desktops.
Canonical's project was eventually scrapped in April of last year, but Samsung looks to have achieved what Canonical was aiming for all along, with the Samsung Galaxy Note 9 now natively support Samsung's DeX technology. DeX originally took the stage in March last year, a month before Canonical pulled the plug on their attempt, as an accessory for the Galaxy S8 and S8+. The accessory acted as a hub that allowed the user to plug in their phone along with an external HDMI display and a USB keyboard and mouse. The phone would then act as a regular desktop computer, with a desktop version of Android presenting itself on the external display for use with the keyboard and mouse.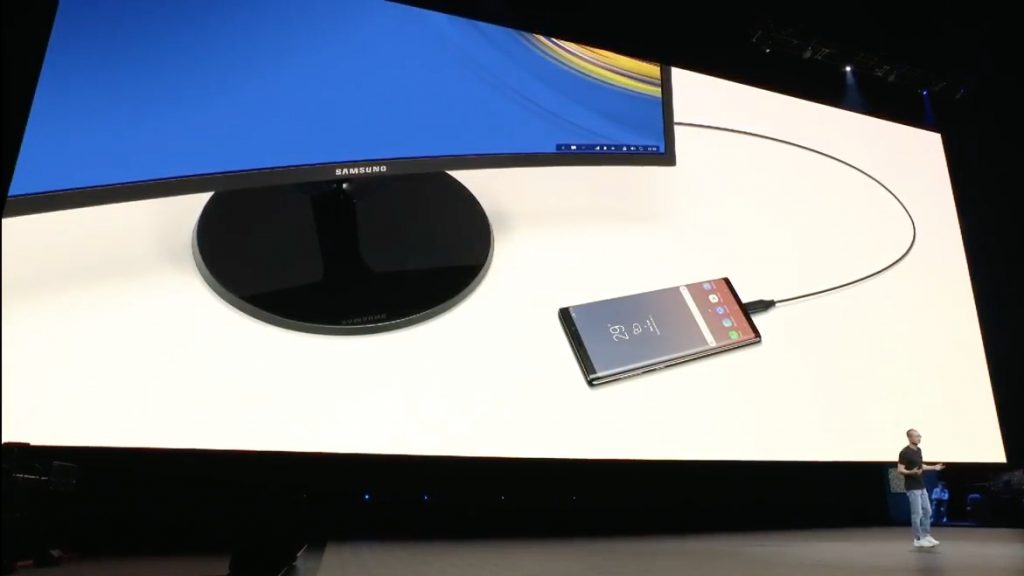 The Note 9 and Galaxy Tab S4 take this one step further now, with no need for this hub accessory; a simple USB-C to HDMI adapter is all one needs now to be able to connect either the phone or tablet to an external display over HDMI—no keyboard or mouse necessary—in order to take advantage of their device's rich capabilities. The device can act as a touchpad whilst DeX is operating, but these devices are now so capable that you can continue to use your phone or tablet as normal and have DeX still running on the external display.
DeX is probably the feature I'm most excited about out of everything Samsung has put on display, as it truly promises to usher in an era of ubiquitous computing for the masses.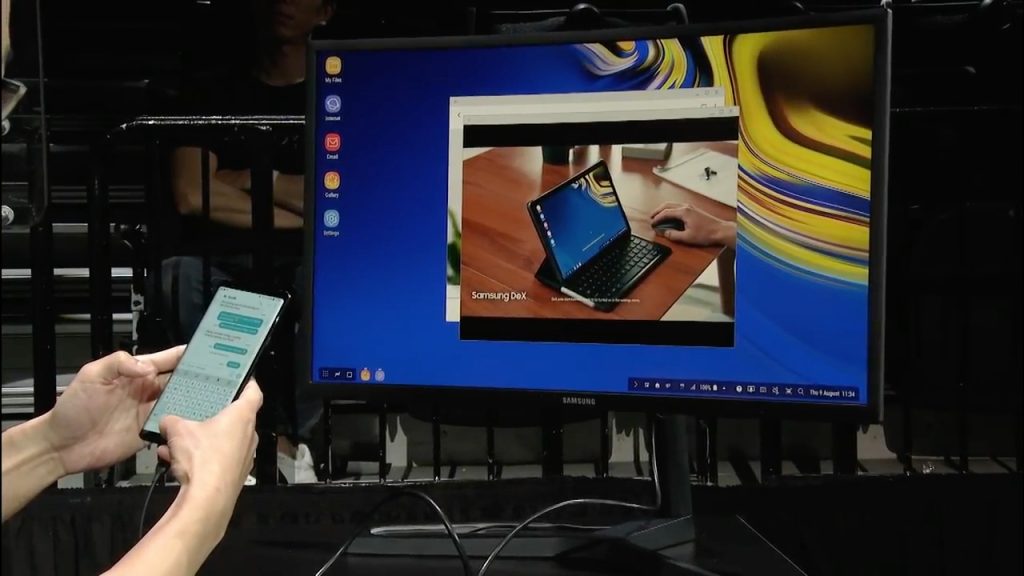 Galaxy Watch
Samsung looks to rival Apple once again, now on the smartwatch market, with the new Samsung Galaxy Watch, a smartwatch sporting a high-resolution AMOLED touchscreen in the form factor of a traditional wristwatch. Samsung claims that the watch offers "military-grade" durability, with its Corning Gorilla DX+ glass screen providing strength and scratch-resistance. As is to be expected, the watch is also water-resistant up to a pressure of 5 atm (approximately 40–50 meters underwater).
The watch is available in diameters of 42mm and 46mm, with the former available in Rose Gold and Midnight Black, and the latter only in Silver. A vast catalogue of straps and digital watch faces will also be available for purchase.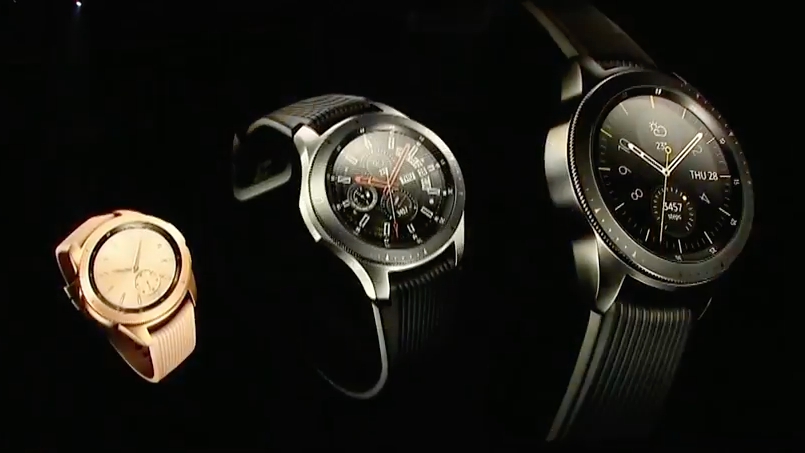 Connectivity
The watch is designed to work perfectly with the Note 9, but also features its own LTE connectivity much like the Apple Watch Series 3, allowing you to use the smartwatch independently of the Note 9 when on the go (though whether a Note 9 is required in order to set up the LTE-capable Galaxy Watch still remains to be seen). Samsung has announced that they are working with over 30 mobile carriers across over 15 countries in order to provide rich LTE connectivity for the Galaxy Watch.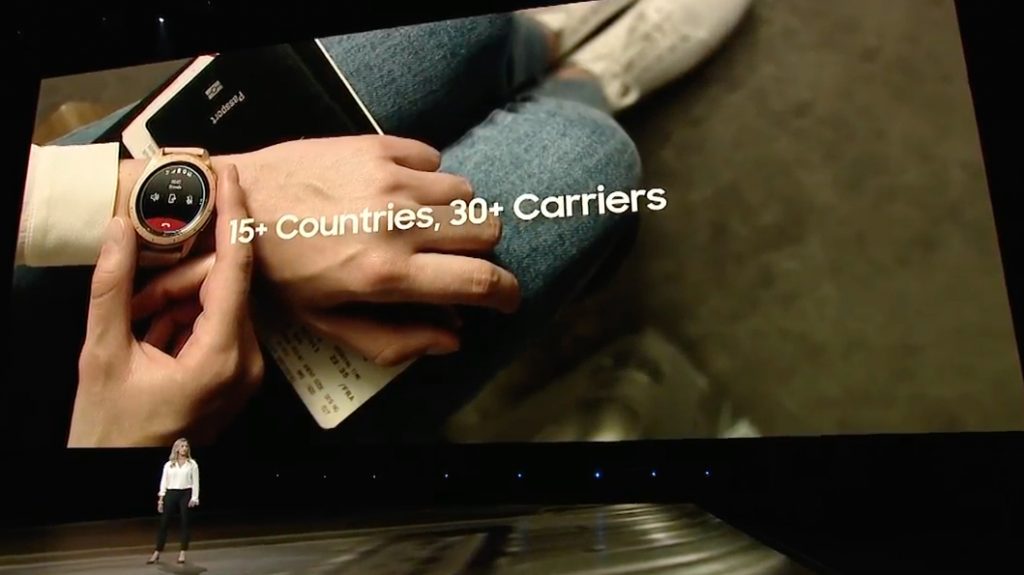 Battery
Following on from the all-day battery performance promised by the Note 9, the Galaxy Watch claims to offer several days worth of usage out of a single charge, though again, specifics are yet to be confirmed or empirically determined, and whether this battery life is maintained when using the LTE functionality of the watch or making phone calls is uncertain at this stage.
Samsung is offering a wireless charging pad known as the Wireless Charger Duo, allowing one to charge both their Note 9 and Galaxy Watch using a single mains outlet. This certainly beats the still inexistent Apple AirPower which was designed back in September to offer the same functionality for Apple's range of smart devices, but which still hasn't hit the shelves 11 months after its announcement (though it is rumoured to finally become available in the next month or so).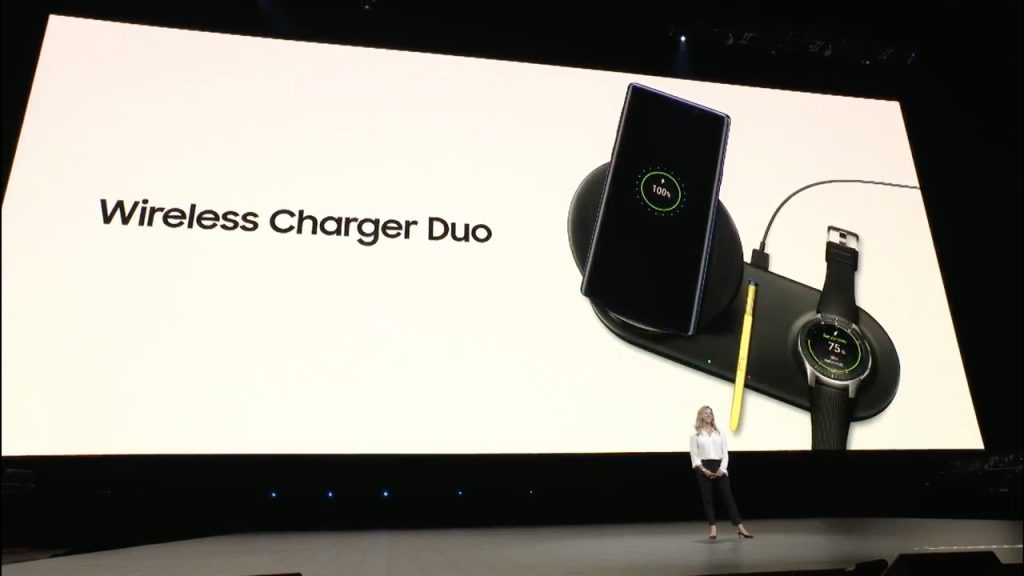 Health and fitness
"The philosophy behind connected health is that all your devices should work together to help you become the best version of yourself," says Elina Vives, Senior Director of Marketing, on stage at the Unpacked event. Very true, Elina, and the Galaxy Watch certainly aims to do this, with a choice of 39 different exercises, of which 6 can be auto-detected when being done. The watch also offers some quick relaxation tips when it detects that you're stressed, and also tracks your sleeping patterns, reporting how long you've slept for and what your quality of sleep was.
The watch also offers planning features, of course, with a daily agenda presented to you each morning, and the "My Day" watch face allowing you to easily see when you're scheduled to be busy during the day at a glance, syncing to your calendar to get this info.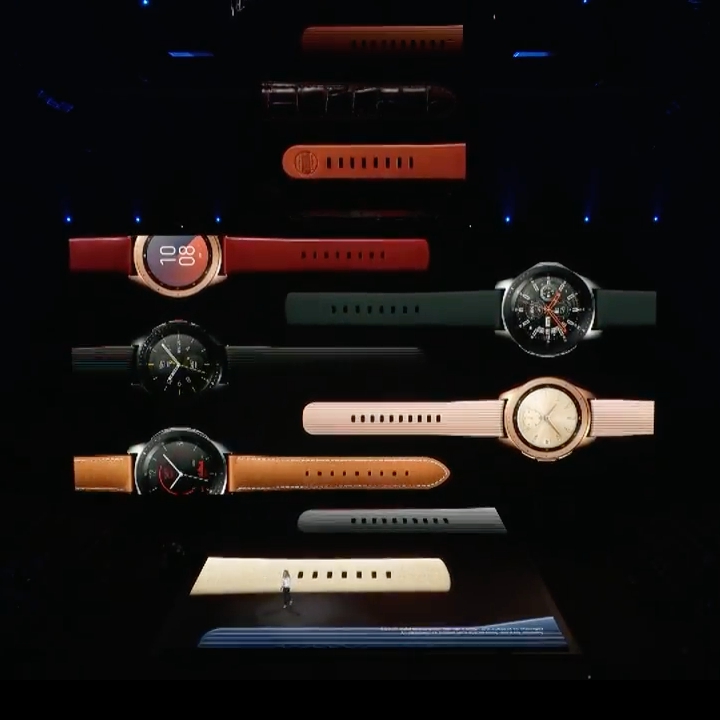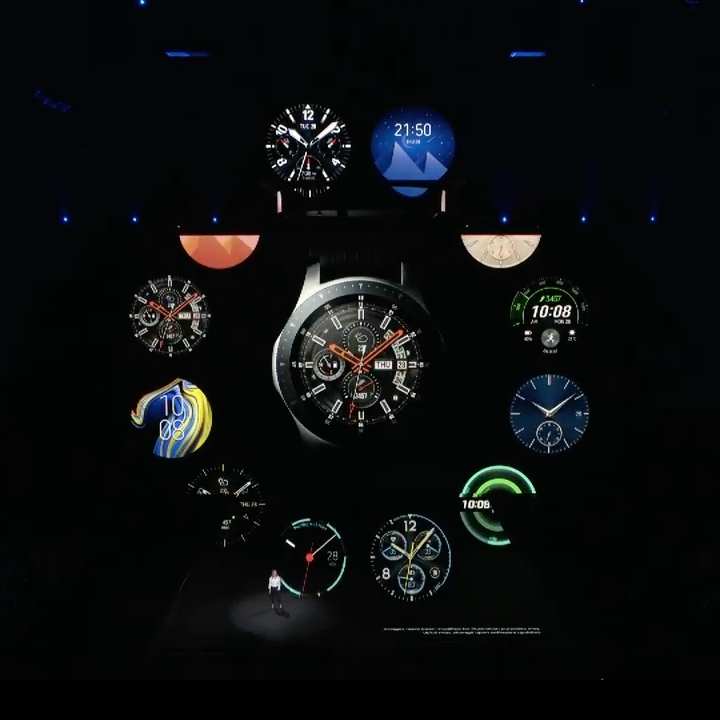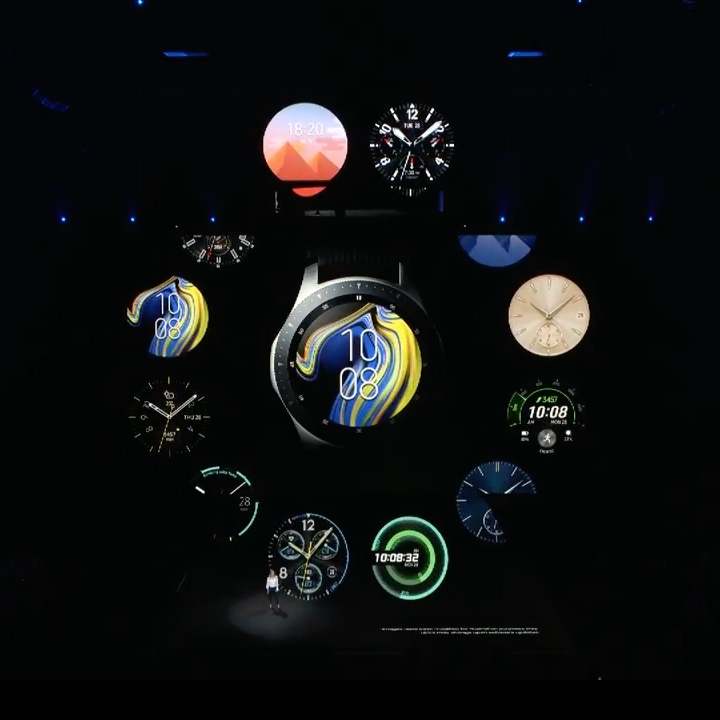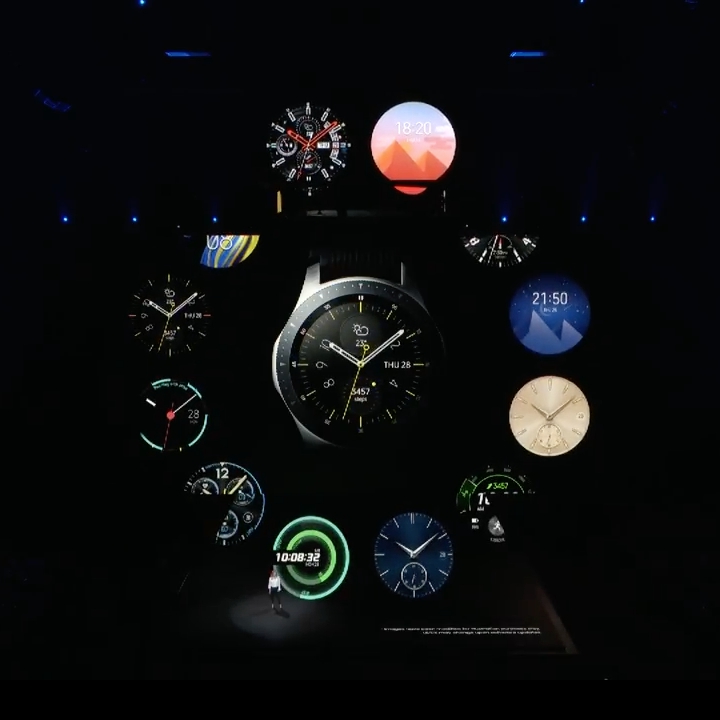 Price and availability
Though a price has not yet been announced, according to the Samsung USA website, the Galaxy Watch will be available for pre-order from 10 August 2018.
Bixby AI
Ji Soo Yi, VP of AI Strategy, took to the stage to tell us all about the latest features that Samsung's Bixby personal assistant has to offer. Frankly, the news is just part and parcel of Samsung catching up with the likes of the Google Assistant and Apple's Siri, with features like context-aware conversations, making restaurant reservations, and booking Uber cabs all already possible with the other major assistants.
What is somewhat interesting, however, is Bixby's personality awareness. The assistant determines its user's interests over time, offering personalised answers to questions such as, "where are the nearest good restaurants?", and auto-filling details relating to restaurant bookings such as the number of people attending and the time of the reservation based on previous actions, particularly helpful if you have the same routine of going out with friends and family, but nothing outside of these small examples was given; frankly, I'm not too impressed.
In any case, the Google Assistant still comes included with the Note 9's Android version, so "hey Google" commands will still work as expected. It seems like Samsung is allowing Bixby to take the backseat now when it comes to the personal assistant world, acting as a helper to already more capable assistants such as Google's.
Galaxy Home
Yet again, Samsung is following close behind, with the Galaxy Home being their foray into the home digital assistant market. Where the Galaxy Home shines, though, is in its rich AKG speaker set, with a powerful subwoofer and realistic surround sound offered by proprietary natural sound processing technology.
The Home also has a feature called SoundSteer, allowing the user to give a quick "hey Bixby" command to alert it of the user's position so that its speakers can be focused in the direction of the listener.
The Home has an array of 8 microphones to offer far-field voice recognition so that its users can still be heard over large distances or behind walls.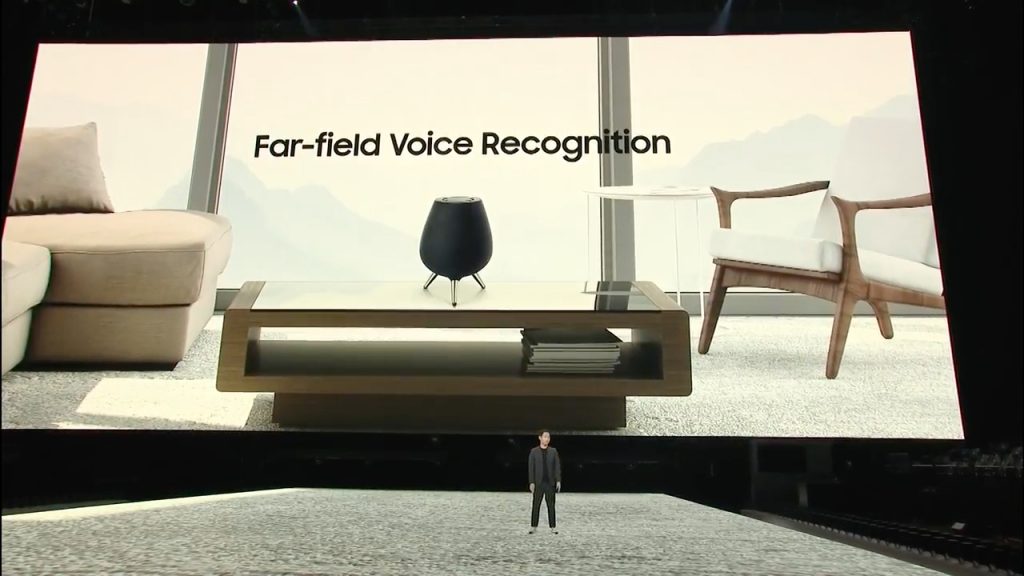 More details on the Galaxy Home will be coming at the Samsung Developer Conference on 7–8 November this year.
Music
Samsung has also now partnered with Spotify to offer a more seamless music experience between their devices. Single push button interactions were demonstrated to switch the active speakers from a Galaxy Note 9 to a Tab S4, then to a Samsung smart TV, and finally to the Galaxy Home. While such simple switching interaction is great, we are yet to truly see home automation at its finest, where the system as a whole is able to dynamically change which speakers are operating without any manual human intervention whatsoever. If my Galaxy Home is in the kitchen and my Samsung smart TV is in my living room currently playing music on Spotify, wouldn't it be great to just walk into my kitchen and have the speakers seamlessly switch from TV to Galaxy Home without me doing anything? That would be truly seamless.
Control of Spotify will soon be integrated into the Bixby assistant and the "Samsung Music" Android app.
Closing thoughts
The Note 9 is most definitely an impressive step up in the world of smartphones, with DeX demonstrating the full potential of our modern devices, the phone's £900 price tag certainly being nothing to scoff at! The new S Pen aims to offer a more intuitive experience, and it seems like it'll do that job just fine, with the Galaxy Watch serving to keep us connected even when our phone is left behind and help us maintain our health and fitness in a stylish form factor.
Bixby is still lacking on smartphones, but that's okay, as hopefully, the Galaxy Home will prompt Samsung to include a richer feature set for the assistant elsewhere.
President and CEO, DJ Koh, returned to the stage to end the show by remarking that "everything you have seen here today is a step forward into an open and connected experience," and whilst that may not be entirely true, it's also not without merit. Here's to more great tech in the future, and here's to a connected world made rich by seamless experiences.